Squadron Leader Ady Morris Raises Funds

Celebrating 25 years in the Royal Air Force, and having been a Royal Air Forces Association Liaison Officer (RAFALO) for over 10 years, Squadron Leader Ady Morris, the South East Area RAFALO based at R.A.F. High Wycombe, has always made good use of his time in the R.A.F.

To promote the R.A.F.A. and to raise much needed funds in support of the Association's commitment to both serving and ex-serving members of the R.A.F. having 'cycled' the equivalent distance from Afghanistan to the U.K. on an exercise bike, during a deployment to Camp Bastion, Afghanistan, in 2010, Ady raised over £1500 towards the Association's activities.

Having now got the cycling bug Ady planned to cycle around the outer ring of the South East Area, a distance of over 700 miles over a 7 day period during 'Wings Appeal', from June 22nd to 28th 2012. The objectives were to increase the awareness of local Branches of R.A.F.A. in the South East and to assist two specific R.A.F.A. projects. 'Miles More Minutes' which provides R.A.F. personnel with additional telephone minutes whilst deployed on operations in Afghanistan, which serves to enable individuals to keep in touch with their loved ones. 'The Wings Appeal' provides a wide range of welfare support to both serving and ex-serving R.A.F. Personnel and also has a provision for enabling Branches to provide more immediate support to their membership.

Ady had set up a 'Just Giving' account for donations to be made as well as sponsorship through our Branch.

The route started at Oxford and finished at High Wycombe, travelling in a clockwise direction north the Banbury, as far east as Harwich, around the coast, passing through Ramsgate, Eastbourne, Shoreham-by-Sea and Southampton, amongst many others, then headed north via Andover and Carterton and on to High Wycombe.

His route took him through 'Comet Country' on his first day, Friday 22nd June 2012 arriving at the Broadway Gardens, Letchworth Garden City late afternoon where our Branch and members of the public gave him a warm welcome and a rousing send off for the next stage.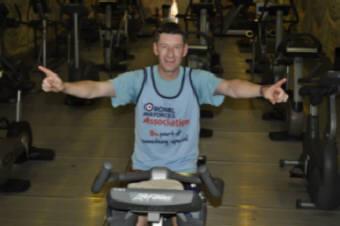 Sqn Ldr Adey Morris completes his exercise bike ride at Camp Bastion.

Adey arrives in Letchworth to be greeted by Branch members (from the left) Roy Newberry with standard of the North Herts Aircrew Association, John Airey, our Branch County Representative, with the Wings Appeal collection box and Alan Wiseman with our Branch standard. Ken Needham, Branch Secretary was the photographer.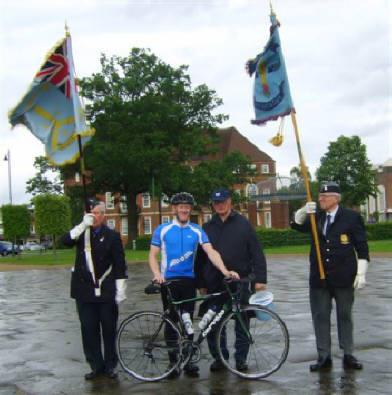 RIDE AROUND THE SOUTH EAST - Ady's Round-Up Letter to our Branch Secretary
On behalf of Tracy, myself and the Royal Air Forces Association, may I sincerely thank you, and your membership, for your support in my 'Ride Around the South East', which finished at the High Wycombe Branch on 28th June, at around 1820.

Tracy and I were made to feel so welcome, all around the Area, and the opportunity to meet with members that we would otherwise not regularly see, and to gain an insight into your own Branch activities and facilities, was worth the journey in its own right. Please pass on our thanks to all. In sum, I covered 700 miles, Tracy did at least 950 miles in the car, visited 42 Branches and at the last count we have, collectively, raised over £4000 towards Miles More Minutes and the Wings Appeal - well done all.

Although I had to concentrate hard on the road, there are a few lasting impressions:
The black squirrels in Letchworth, breaking 30 mph on a flat road to Royston, appreciating why there are wind turbines off the coast at Clacton-on-Sea, the evening in Faversham, the beautiful guest house in Dover, the climb out of Eastbourne and the 'roller coaster' hills across to Brighton, Betty's cake, the horses of the New Forest, fish supper in Alresford, the Tribute Bikes, breaking 40 mph to Wantage, the last climb to Stokenchurch and turning the corner to the High Wycombe Branch to be met by Station personnel, friends and family.

Would I do it again - to meet you all - at the drop of a hat. We hope to catch up again in the future and if you have any major events planned, please drop me a line. One final thank you - for arranging accommodation for Tracy and I, and hosting so superbly - it was much appreciated and was one less thing to worry about in what was a significant planning task, before, during and after.